International Polish Youth Championships 2004

| | |
| --- | --- |
| Rzeszow (POL), 2.- 4.4.2004 | |

Members of the Czech junior national trampoline team arrived to Rzeszow.
In the synchronised competition Jana Vaculínová and Simona Kadlecová competed among 7 pairs. Their medal ambition disappeared during the second routine and girls placed finally on the 5th place.
The individual competition was much more pleasant for us. Except named young women Zita Frydrychová competed too.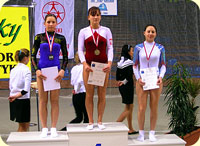 After the average first routines the girls performed stable second routines with relatively high difficulty between 9,0-9,5 pts and all qualified for the final, even Jana on the currently medal position.
More precise final routines helped to the movement of Simona up to the 5th place and Zita up to the 6th place. Jana repeated the good performance from the qualifying round and enjoyed from the bronze medal.

by Jana Štefaniková