29th International Friendship Cup 2001



(press release)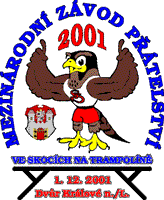 29th Annual of International Competition of Friendship took place on Saturday, 1st December 2001, in the sport hall of the Strž Primary School in Dvůr Králové nad Labem (CZE). Competitors from Austria, Israel, Sweden and top juniors and seniors from the Czech Republic participated. Czech competitors dominated in the 29th International Competition of Friendship – they won all categories.
In the ladies individual category there was no problem for Petra Vachníková (CZE) to win. Petra, the participant of the Olympic Games in Sydney, went through the competition without greater failure and she won with 99,1 pts total of all 3 routines. Kristýna Závodníková (CZE) finished the competition on the 2nd place (91,4 pts) and Naďa Palacká (CZE) on the 3rd place (88,1). Both girls are the members of the Czech Junior National Team and archieved significant progress in their performance during last year.
There were much more dramatic moments in the men individual category. Konstantin Miroshnikov from Israel was the favourite. He prepared the routine with 7 various triffis elements. He was the best after the compulsory routine (the first routine), but he did not finish the voluntary routine (the second routine) and it opened the way to the victory for Czech competitors.
After the qualifying round (the first plus the second routine) Petr Dufek, the best Czech male competitors, was ahead of man category with 1,5 more point gain than the rest of competitors. But in the final routine he performed 9 elements only and finished the competition on the second place (96,4 pts) in the total ranking.
The Czech representative Petr Dejl became by right of merit the non-expected winner of the category with 98,4 pts. He performed very good routines in the qualifying round and in the final round too. Petr Dufek finished the individual competition on the 2nd place ahead of Jiří Kurtin (96,2 pts) by only 0,2 pts.
Competitions of men and ladies synchronised pairs ran through without greater surprise. Czech pairs Simona Kadlecová / Jana Vaculínová and Petr Dufek / Petr Dejl were the favourites.
The category of ladies synchronised pairs was very balanced. In the total evaluation the point difference between the 1st and the 3rd place was only 0,8 pts. The Czech pair Simona Kadlecová / Jana Vaculínová won with 118,9 pts ahead of other Czech pairs Libuše Pilzová / Veronika Svobodová (119,2 pts) and Zuzana Musialková / Kristýna Závodníková (118,9 pts).
Between the foreign participants only the austrian pair Dieter Hayn / Markus Höckner reached the medal place in the competition and took the 2nd place in the men synchronised pairs category with 91,8 pts. The austrian pair placed between the czech couples Petr Dufek / Petr Dejl (130,9 pts) on the 1st place and Jiří Kurtin / Vladimír Novák (87,7 pts) on the 3rd place.