Katarína Prokešová obtained 2002 European Silver after the protest
(UEG press release, Lausanne / Switzerland, 3.1. 2003)&nbsp &nbsp &nbsp &nbsp &nbsp &nbsp

2002 European Trampoline Championships in St. Petersburg: Correction of the results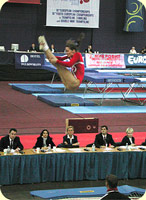 The European Union of Gymnastics (UEG) informs that the protest submitted by the Gymnastics Federation of Slovakia concerning its gymnasts Katarina Prokesova (3rd of the Double Mini-Tramp competition and bronze medallist) has been accepted.
The protest concerned the difficulty score given by one of the judges. As the protest has been accepted, the Slovakian gymnast Katarina Prokesova obtained the silver medal and the German athlete, Kathrin Deuner (former silver medallist), the bronze medal.
The German Federation as well as the athlete involuntarily concerned, Kathrin Deuner, accepted this decision with a remarkable spirit of Fair-Play.

The UEG expresses its congratulations to both athletes for their brilliant results. During its meeting in January 2003, the UEG Executive Committee will decide the sanction of the judge.
C o n g r a t u l a t i o n s&nbsp &nbsp! !
---
Related article :
2002 picture tour .... (including European Championships)&nbsp &nbsp{info}