List of Articles in English
European and Youth European Championships 2002 is coming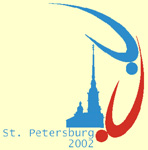 The old russian city Sankt Petersburg become the scene of the top european trampoline event for one week in November 2002.

The athletes 13 - 17 years old will compete for the European Youth Champion Titles at first on November 11st - 13th and there will be many olympic hopes for OG 2008 in China introduced on the start.

Immediately after the EYC competitions the senior athletes lead by the current World and Sydney 2000 Olympic Champions will start their this year's top european competition on November 14th - 16th.
In both the Youth and Senior European Championships will be included the trampoline individual, synchronized and team competitions and both the double-minitramp and tumbling competitions.


A maximum of 4 individuals and 2 synchro pairs from each country per category are allowed to start in European Championships, the team is consist from 3-4 individual competitors.
Only the 8 best individuals and pairs and 5 best teams (maximum 2 individuals and 1 synchro pair per country) in each category will start in the finals. The finals start from zero.
---
--->> Visit the official website of the 2002 European Championships : INFO <<---
---
The members of the Czech National Team :
European Youth Championships 2002 {info}
European Senior Championships 2002 {info}
| | | | | | | | |
| --- | --- | --- | --- | --- | --- | --- | --- |
| ARM | (AUS) | AZE | BEL | BLR | BUL | (CAN) | CZE |
Programme :

Friday 8.11.2002

&nbsp
Arrival of Delegations

Saturday 9.11.2002

&nbsp
Arrival of Delegations

15.00-21.00
&nbsp
Free Training

Sunday 10.11.2002

09.00-17.15
&nbsp
Training per schedule

&nbsp
- 10.00-11.00 CZE EYC - Training hall I

&nbsp
- 11.00-12.00 CZE EYC - Competition hall

&nbsp
- 13.30-15.00 CZE EC - Training hall II

12.00
&nbsp
Age / nationality control EYC

14.30-15.30
&nbsp
Judges meeting Trampoline EYC

-15.00
&nbsp
Return competition cards EYC

18.00-20.00
&nbsp
Opening Ceremony (State Circus)

Monday 11.11.2002

09.00-20.00
&nbsp
Training per schedule

&nbsp
- 09.00-09.50 EYC Synchro Group 1 - Competition hall

&nbsp
- 09.50-10.40 EYC Synchro Group 2 - Competition Hall

&nbsp
- 13.00-15.00 CZE EC - Training hall II

&nbsp
- 15.45-16.30 CZE EYC - Competition hall

&nbsp
- 16.30-17.15 CZE EYC - Training hall I

&nbsp
- 17.15-20.00 EYC Free - Training hall I

11.00-12.30
&nbsp
Synchro Preliminaries EYC (25 pairs girls, 18 pairs boys)

Tuesday 12.11.2002

09.00-20.00
&nbsp
Training per schedule

&nbsp
- 09.00-10.30 EYC Free - Competition hall and Training hall I

&nbsp
- 09.00-13.15 EC Free - Training hall II

&nbsp
- 14.00-14.45 CZE EC - Training hall II

&nbsp
- 14.45-15.30 CZE EC - Competition hall

&nbsp
- 17.00-20.00 EC free - Training hall II

11.00-14.00
&nbsp
Trampoline Preliminaries EYC (60 girls, 49 boys)

&nbsp
- 10.30-11.00 EYC warming up 1st Group

18.00-19.20
&nbsp
Team Finals EYC

Wednesday 13.11.2002

10.00-19.40
&nbsp
Training per schedule

&nbsp
- 10.00-11.00 CZE EC - Training hall I

&nbsp
- 11.00-12.00 CZE EC - Competition hall

-11.00
&nbsp
Return Competition Cards EC

11.00-12.00
&nbsp
Age / nationality control EC

15.00-16.00
&nbsp
Judges meeting Trampoline EC

18.00-19.40
&nbsp
Finals EYC

Thursday 14.11.2002

09.00-20.00
&nbsp
Training per schedule

&nbsp
- 09.00-20.00 EC Free - Training hall II

&nbsp
- 09.00-09.50 EC Synchro Group 1 - Competition hall

&nbsp
- 09.50-10.40 EC Synchro Group 2 - Competition hall

&nbsp
- 12.45-13.30 EC Free - Training hall II

&nbsp
- 15.45-16.30 CZE EC - Competition hall

&nbsp
- 16.30-17.15 CZE EC - Training hall I

&nbsp
- 17.15-20.00 EC Free - Training hall I

11.00-12.30
&nbsp
Synchro Preliminaries EC (18 pairs ladies, 25 pairs men)

&nbsp
- 10.30-11.00 EC warming up 1st Group

Friday 15.11.2002

09.00-20.00
&nbsp
Training per schedule

&nbsp
- 09.00-11.00 EC Free - Competition hall and Training hall I

11.30-15.30
&nbsp
Trampoline Preliminaries EC (48 ladies, 66 men)

18.00-20.00
&nbsp
Team Finals EC

Saturday 16.11.2002

12.00-18.30
&nbsp
Training EC finalists

16.00-18.30
&nbsp
Finals EC

18.30-19.00
&nbsp
Closing Ceremony

21.00-01.00
&nbsp
Banquet and Disco

Sunday 17.11.2002

&nbsp
Departure of delegations


&nbsp
DEN
&nbsp


ESP
&nbsp


FIN
&nbsp


FRA
&nbsp


GBR
&nbsp


GEO
&nbsp


GER
&nbsp


GRE
&nbsp


HUN
&nbsp


ISR
&nbsp


ITA
&nbsp


LTU
&nbsp


MDA
&nbsp


NED
&nbsp


POL
&nbsp


POR
&nbsp


RUS
&nbsp


SUI
&nbsp


SVK
&nbsp


SWE
&nbsp


UKR
&nbsp
Starting order of the European Youth Championships 2002 :
TRAMPOLINE - Girls (60)

No.

Group 1

Group 2

Group 3

Group 4

Group 5

1

CZE-1

SUI-1

GEO-1

DEN-1

SWE-1

2

POR-1

ITA-1

BUL-1

BEL-1

RUS-1

3

FRA-1

FIN-1

ESP-1

BLR-1

GBR-1

4

CZE-2

POL-1

GER-1

UKR-1

SWE-2

5

POR-2

GRE-1

NED-1

BEL-2

RUS-2

6

FRA-2

ITA-2

ESP-2

BLR-2

GBR-2

7

CZE-3

FIN-2

GER-2

UKR-2

SWE-3

8

POR-3

POL-2

NED-2

BEL-3

RUS-3

9

FRA-3

GRE-2

GER-3

BLR-3

GBR-3

10

CZE-4

POL-3

NED-3

UKR-3

SWE-4

11

POR-4

GRE-3

GER-4

BLR-4

RUS-4

12

FRA-4

POL-4

NED-4

UKR-4

GBR-4
Teams girls : BEL, BLR, CZE, FRA, GBR, GER, GRE, NED, POL, POR, RUS, SWE, UKR
TRAMPOLINE - Boys (49)

No.

Group 1

Group 2

Group 3

Group 4

1

GEO-1

BEL-1

(CAN-1)

CZE-1

2

UKR-1

BUL-1

POR-1

SUI-1

3

BLR-1

DEN-1

FRA-1

SWE-1

4

GEO-2

ESP-1

GER-1

ITA-1

5

UKR-2

RUS-1

POR-2

POL-1

6

BLR-2

NED-1

FRA-2

GBR-1

7

GEO-3

ESP-2

GER-2

POL-2

8

UKR-3

RUS-2

POR-3

GBR-2

9

BLR-3

NED-2

FRA-3

POL-3

10

GEO-4

RUS-3

GER-3

GBR-3

11

UKR-4

NED-3

POR-4

POL-4

12

BLR-4

RUS-4

FRA-4

GBR-4

13

GER-4
Teams boys : BLR, FRA, GBR, GEO, GER, NED, POL, POR, RUS, UKR
TRAMPOLINE SYNCHRO - Girls (25)

No.

Group 1

Group 2

1

CZE-1 / CZE-1

RUS-1

2

POR-2

UKR-1

3

GBR-1

UKR-2

4

GRE

FRA-2

5

BEL-2

CZE-2 / CZE-2

6

BLR-2

RUS-2

7

BLR-1

POR-1

8

GBR-2

GER-1

9

POL-1

POL-2

10

SWE-1

SWE-2

11

FRA-1

NED-1

12

NED-2

GER-2

13

BEL-1
TRAMPOLINE SYNCHRO Boys (18)

No.

Group 1

Group 2

1

POL-2

UKR-1

2

GBR-1

FRA-2

3

POR-1

FRA-1

4

NED

POL-1

5

RUS-2

BEL-1

6

UKR-2

GBR-2

7

GER-2

BLR-2

8

POR-2

RUS-1

9

GEO

GER-1

Starting order of the European Senior Championships 2002 :
TRAMPOLINE Women (48)

No.

Group 1

Group 2

Group 3

Group 4

1

BUL-1

ITL-1

SVK-1

SWE-1

2

ESP-2

POL-1

HUN-1

CZE-1

3

UKR-4

FRA-1

GEO-1

POR-1

4

GBR-4

GER-1

NED-1

RUS-1

5

ESP-2

POL-2

BLR-1

CZE-2

6

UKR-4

FRA-2

GEO-2

POR-2

7

GBR-4

GER-2

NED-2

RUS-2

8

UKR-4

POL-3

BLR-2

CZE-3

9

GBR-4

FRA-3

NED-3

POR-3

10

ESP-2

GER-3

BLR-3

RUS-3

11

UKR-4

FRA-4

NED-4

POR-4

12

GBR-4

GER-4

BLR-4

RUS-4
Teams ladies : BLR, CZE, FRA, GBR, GER, NED, POL, RUS, UKR
TRAMPOLINE Men (66)

No.

Group 1

Group 2

Group 3

Group 4

Group 5

1

(AUS-1)

ITA-1

BEL-1

CZE-1

GEO-1

2

POL-1

BUL-1

ISR-1

SUI-1

MDA-1

3

ESP-1

SWE-1

POR-1

RUS-1

UKR-1

4

NED-2

GRE-1

DEN-1

GER-1

BLR-1

5

(AUS-2)

GBR-1

FRA-1

CZE-2

MDA-2

6

POL-2

BUL-2

POR-2

SUI-2

UKR-2

7

ESP-2

SWE-2

DEN-2

RUS-2

BLR-2

8

NED-2

GRE-2

FRA-2

GER-2

MDA-3

9

POL-3

GBR-2

POR-3

SUI-3

UKR-3

10

ESP-3

GRE-3

DEN-3

RUS-3

BLR-3

11

NED-3

GBR-3

FRA-3

GER-3

MDA-4

12

ESP-4

GRE-4

POR-4

SUI-4

UKR-4

13

NED-4

GBR-4

FRA-4

RUS-4

BLR-4

14

GER-4
Teams men : BLR, DEN, ESP, FRA, GBR, GER, GRE, MDA, NED, POL, POR, RUS, SUI, UKR
TRAMPOLINE SYNCHRO Women (18)

No.

Group 1

Group 2

1

GBR-2

CZE / CZE

2

UKR-1

GBR-1

3

POR-2

GER-1

4

FRA-1

RUS-1

5

UKR-2

BLR-1

6

NED

POR-1

7

POL

RUS-2

8

FRA-2

BLR-2

9

GER-2

GEO
TRAMPOLINE SYNCHRO Men (25)

No.

Group 1

Group 2

1

MDA

(AUS)

2

GBR-2

BLR-1

3

SUI-1

DEN

4

FRA-2

POR-1

5

GRE

RUS-2

6

CZE / CZE

POL

7

SUI-2

UKR-2

8

UKR-1

GBR-1

9

BLR-2

GER-2

10

POR-2

FRA-1

11

RUS-1

GER-1

12

NED-2

NED-1

13

SWE

ESP