List of Articles in English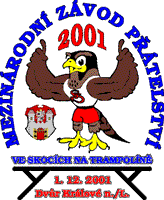 29th International Friendship Cup 2001



The 29th Annual of International Trampoline Competition of Frendship will be organized in the bohemian city Dvůr Králové nad Labem in the Sporting Hall Strž (Eliška Krásnohorská Street) on Saturday, December 2001, 1st.
The competition will start at 03.00 p.m. and the end is planed at 06.00 p.m. It includes the ladies and ladies-juniors individuals and syncho pairs and the men and men-juniors individuals and sychro pairs categories.
The competitors from Austria, Israel and Sweden will compete with the czech trampolinists together. As the top sport adventure we expect the performance of the israeli competitor Konstantin Miroshnikov which belongs to eight competitors with higher difficulty of routine around the world (15,9 pts.).
The selection of czech competitors will be decided by the results of the test competition in Prague on November 2001, 24.-25.th.
---
---